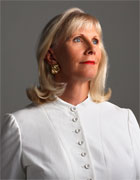 Gigi Turville became CEO of John Dermody Ventures in May of 2007 after many years of investing and partnering with her father, John Dermody. Gigi brings to John Dermody Ventures a wealth of historical knowledge of commercial real estate in Nevada. She adheres closely to the goals and business ethics that her father once displayed himself in building this business.
She worked closely with her father, especially since 1991 in building what John Dermody Ventures is today.  Gigi works with her employees that deal with leasing and sales, property management, and the president who is in charge of the day-to-day operation of the company.
Gigi grew up in Reno and attended local schools. She also attended schools in Lausanne, Switzerland and California. Her first business venture was owning and managing a cattle/hay ranch for 15 years in Washoe Valley, Nevada. She raised her large family on the ranch, where her children learned the value of a hard day's work.
Throughout the years Gigi has been very active with many volunteer organizations. She has been a 4-H leader, a Hospice volunteer, had 10 foster children, served on the boards of the Reno Junior League and the Overlake Service League. She helped develop the Court Appointed Special Advocate (CASA) program for Reno and the Program for Early Parent Support (PEPS) program. She and her husband Lash strongly support the arts, especially the Nevada Museum of Art and the Reno Philharmonic.
Alisa Criscone
Real Estate Director
Todd Nelson
Office Manager